... Just need to install some type of cruise control.
Over the last 38 years, I have installed cruise controls in 8 personal vehicles - with mixed results.
The Audiovox cruise controls seemed to last a few years and wear out. They actuate on manifold vacuum. These are no longer on the market - do NOT buy a used or new-in-box Audiovox.
One mis-adventure with the Audiovox unit is having the throttle linkage jammed at full (adapter chain malfunction) - Fortunately, a old 4 cylinder pickup does not have a lot of power.
Most recent mis-adventure involves a 2012 Nissan Frontier with an electronic speedometer. Cruise plugs into the OBDII diagnostic port and electrically mimics the electronic fuel pedal. Works great -
EXCEPT
- if you push the cruise control buttons in the wrong sequence - Nissan throws a TRACTION CONTROL and CHECK ENGINE lights - puts you on the side of the road at an engine. I unplugged it...
I am having good luck with this aftermarket cruise control.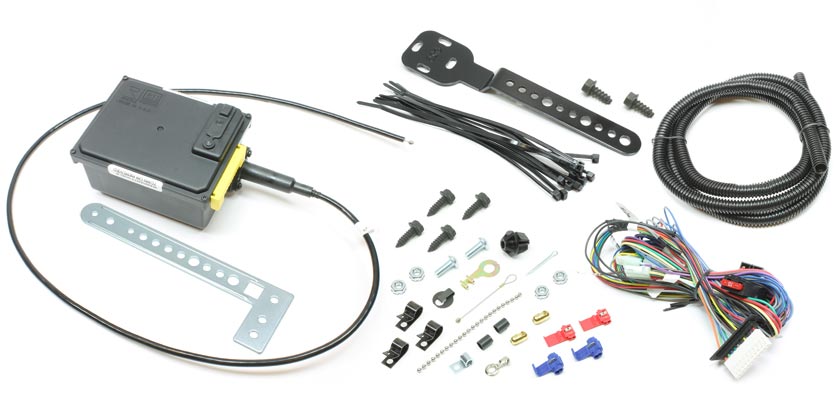 A universal electronic cruise control system from Rostra allows you to add cruise control functionality to almost any vehicle with a mechanical throttle control linkage on its carburetor or throttle body.
www.rostra.com
It uses an electronic speedometer signal, and has a servo controlled cable pull.
I currently them on a 1962 Volvo PV544 and F150 in my 4bt F150 (see signature below) . The truck uses the signal from the stock Ford speedometer sender (1997 Ford M5R2). 37 states and over 70K miles. Zero problems traceable to the Rostra unit.
I never did a cruise control writeup in this build thread - there are too many safety considerations (TRANSLATION - Damn near an infinite number of ways to screw up). Some for instances:
1. Installation is custom - Finding a place to mount the control switch, finding a place to mount the servo box (lots of time getting the pull cable right (connecting to throttle lever, mounting cable sheath, clearing linkages and heat sources, rubbing against hoses and wires (forgot a couple))).
2. Fabricating a clutch interlock switch
3. Wiring
a. Clutch interlock switch
b. Brake light switch
c. Tapping the signal from the electronic speed sensor (Make a note - is it digital or sinusoidal? There will be a quiz when setting up the DIP switches)
d. Control head and switch assembly need 12 volt connections
e. Control head and switch assembly need grounds
f. Probably forgot something
4. Set 10 DIP switches (hint: Need your bi-focals, a long finishing nail (so slid the switches, and record all settings)
5. Test drive and trouble shoot.
6 Probably forgot a couple of items.
SUMMARY:
I recommend this Rostra universal unit
IF and only IF
you are familiar with automotive electrical wiring and electric troubleshooting. The Rostra link has links to the installation manuals.
NOTE
:
The aftermarket cruise controls use the brake light to ground the activation relay. When you step on the brakes, the 12 Volts on the brake light wire causes the activation relay to drop out and the pull cable goes slack. This means that you have to tap the brake light wire
BEFORE
the turn signal switch assembly. Some weird stuff along the way:
1971 IH pickup and 1975 IH Scout - Some sort of funky feedback in the turn signal switch assembly, turns signals would sometimes cancel the cruise control - "FIX" was a 3rd brake light, tapped before the turn signal switch assembly.
1995 F150 - Several years after installation - Braked for a reduced speed sign - the harder I pushed on the brake pedal, the harder the 4bt started pulling (4bt torque is impressive at 55 MPH). Switched the cruise off at the dash mount switch. DIAGNOSIS: Ford wire broken at the stock brake light switch (The F150 was a $1,000 Craigslist "wonder-truck" (I wonder why I bought this turd).
The 1962 Volvo has a hydraulic brake light switch. It takes a
FIRM
brake pedal pressure to light the tail lights and drop the cruise control. Dangerous in traffic. The fix involved adding a mechanical brake light switch in parallel (lots of fabrication) and an isolation diode.