Well, I figured I'd start a build thread on my towrig "BIG WHITE" and just update this single thread instead of all the little posts around the forum.
SUBJECT:
Big White, as my truck is affectionately called, is a 1990 Chevrolet V3500 crew cab dually. It's a Silverado model, so it's fairly high on the options. And, I bought it in late 2005 with only a bit over 60K miles. All in all it's a good starting point for any project.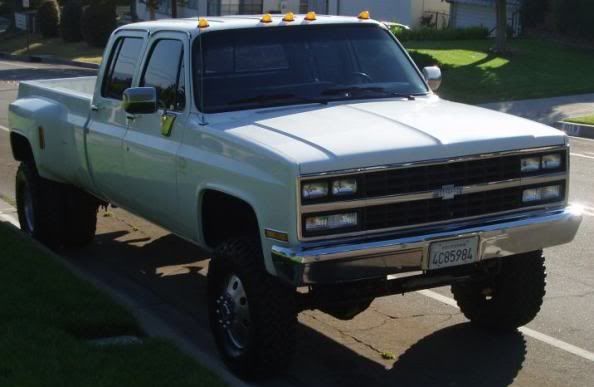 HISTORY:
I've been looking for one of these trucks (crew cab, 4wd, dually) no kidding since 1996. I got married to my first wife in 1997 and she was totally against getting "one of those old trucks" or really any vehicle older than 3 or 4 years old (even though she enjoyed riding around in my 68 GTO convertible). I continued to look until we got divorced in 2003.
In 2003, a buddy and I drove from Sumter, SC to north of Boston (over 14 hours) to look at a truck. I turned it down due to the excessive amount of rust and drove 14 hours back home empty handed. Here's a pic of that piece...
During my search, I've looked at a bunch of these trucks. As those of you who have looked for a GM crew cab, solid axle, dually know, they're fairly hard to come by. And, even harder to come by are the ones that weren't used and abused as a work truck during it's life. I've kept this picture of one that I looked at in Missouri and seriously considered purchasing around 2001 or 2002. This one was beat to hell and he wanted around $4K if memory serves me right.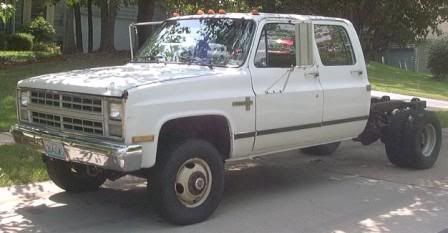 In 2005, as I finished Air Force pilot training, I came across "Big White". My fiancé knew I've been looking for one of these trucks for a long while. I even came across an old truck trader from 2001 that I bought to inquire about one of these trucks when cleaning out the house. She told me right then and there that I needed to get "Big White"! I still have that old truck trader...(see the top right 91 GMC? It's a four speed too. They wanted $16K back in 2001!)
GOAL:
Make this truck into the ultimate towrig. What exactly does that mean? I'm not really sure. I think "ultimate towrig" is in the eye of the beholder. The modifications that I'm planning will increase capability and coolness exponentially; however will take away what little practicality this truck had to begin with. Excess is the American way after all. :beer:
OVERVIEW:
Engine: Detroit Diesel 4-71 supercharged, turbocharged and intercooled (all Detroit 2 strokes are supercharged)
Transmission: Roadranger RTO-610 10 speed overdrive
Transfer Case: Divorced mounted NP205
Aux Transmission: Brownie/Spicer 5831 ?
Front Axle: Dana 80, late model Ford metric hubs with 4 piston calipers/disks, 10 lug, some kind of locker (possibly ARB)
Rear Axle: Dana 135, late model Ford metric hubs with 4 piston calipers/disks, 10 lug, some kind of locker (possibly Detroit Locker)
Interior: Custom semi style dash, Vintage Air A/C, late model Escalade leather seats, sound deadening
...and a bunch of other stuff/ideas that have been floating around in my head.
Why a Detroit, you ask?
I've thought about doing a 6.5L turbo, a Cummins 6Bt, a Duramax, and even some others that I'd be laughed at for mentioning. The 4-71 will definitely be different. Listen to this! It's the smaller 4-53 too.
http://www.youtube.com/watch?v=k3qyR2z8xEs
GATHERING PARTS:
Here's the aluminum block I'm using. An all iron 4-71 would weigh over 2100 lbs. By using an aluminum block, front and rear plates, front cover and rear bellhousing, along with some other weigh savings things, I'm hoping to save 650 to 800 pounds.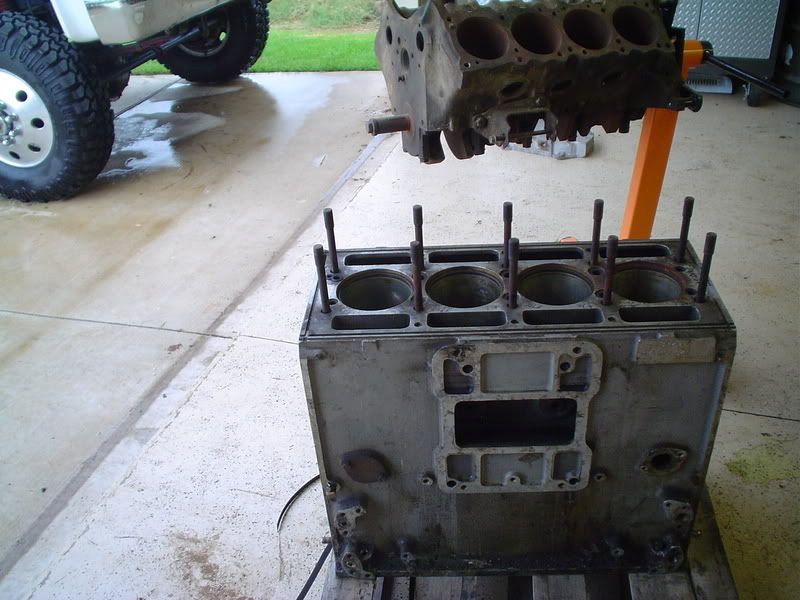 The engine in the back is a pontiac 455 for size reference, although you can't really see how much bigger the Detroit is in this picture.
Here's inspiration for the dash...Kenworth style.
Here's closer to what I'll actually do for the dash.