OK I'm a little late to this discussion, but I have some definite ideas about how to mount one of these engines.

First it kind of depends on how the vehicle will be used. If it is street only then mounts that support the engine and kind of limit its fore and aft and side to side movement, will probably work just fine.

However if the Vehicle is to be used off road in any challenging way then the mounts must not only support the weight of the engine but also positively capture its movement on all three axis'. Otherwise you will end up with holes in your radiator and general disappointment.

I learned a lot while building Early Rock Crawling Jeeps 95-03 ish. and they were evolving with every trip to a competition. The mounts on my Yellow Jeep broke on a mild trail in Moab and it took us 4 hours to recover it after only 5 minutes into the trail. About 200 yards!. That prompted me to design and build mounts using Poly Urethane Spring Bushings in the Tubular Mounts to positively locate the engine on all 3 axis'. No more problems with 12" holes in the radiator.

These mounts utilized the center mounting locations on the sides of he engine rather than the conventional mounts on the Front of Chevy 4's and 6's

These worked perfectly and there were no further failures. Even after rolling the Jeep 4 1/2 times the engine was still in place and running even though it was upside down. My right ear still rings constantly from that episode in 2003 !.

View attachment 133483

Moving forward to the DeScrambler I wanted the same basic concept but bigger to deal with the 750 lb Weight of the Cummins 4 BT.

With the 4 BT as an off road power plant I decided it was best to mount the engine on the sides of the block so that the weight of the engine was supported entirely by the mounts independent of any "Cantilever" effects induced by mounting them on the front of the engine and relying on the Transmission mounts to support the rear and divide the entire weight of the power train (1150 lbs total) thus @280 lbs on each mount. This would put undue stress on the joints between the Engine/Transmission/ Overdrive/Transfer Case each of which would encourage oil leakage at some point.

The engine is supported near the #3 cylinder on the drivers side and #2 cylinder on the passenger side by Polyurethane Step Bushings that are 3" in diameter made of 60 Durometer Poly.. I made a mold to pour the Poly around a steel bushing in the center of the bushing.

The right side mount was a little complicated due to having to work around the Turbo Drain and pick up the front mounting holes in the block. The right side is much simpler.

View attachment 133484 View attachment 133485 View attachment 133486

The rear of the Drive Train is supported by the Crossmember in between the Over Drive unit and the Transfer Case. So in the end the entire drive train is supported by 4 sets of the Poly Bushings, but the weight of the engine is mainly supported by the two engine mounts located on the sides of the engine and the Cross Member is taking the load of the trans and other piece parts. or about 400 lbs,.

Note: the Engine Mounts are bolted to the sides of the Frame Rails which incorporate bushings that go all the way thru the frame rail and are welded in place. In addition there is a "Shear Plate" on the top of the mounts that prevents the mounts from shearing off. So there is 4ea 1/2" G8 bolts holding the frame side of the mounts..

The only negative to this set up is that it does transmit vibration of the Engine to the frame very efficiently. Maybe some day I will go back and remake the step bushings from softer material. BUt for now looking at ways to lessen the vibration that the engine makes in the first place.

However the drive train is located very solidly in all 3 axis'. Period!

OK,,, that is what I did to mount my Engine /Drive Train. YMMV

Randy
Mine is very similar. I used off-the-shelf urethane leaf spring bushings. As I mentioned in the
"Show Off Ur Motor Mounts"
thread, these work well and provide adequate vibration absorption for a 6, but they would be far from optimal for a 4. A similar mount using the second gen Dodge mount inserts, as shown above in
post #87
of this thread, would be much better. Even then, vibration absorption is likely to be marginal for a 4BT, unless you happen to have one with a balance shaft.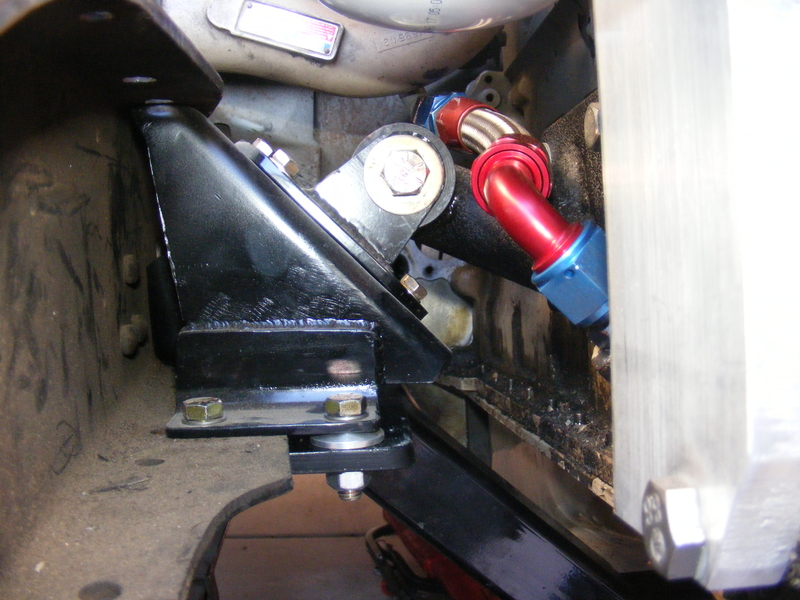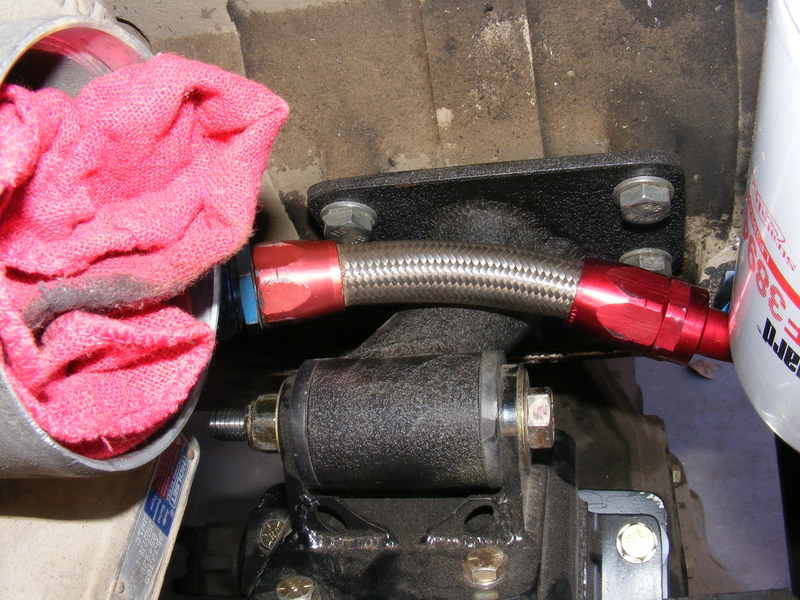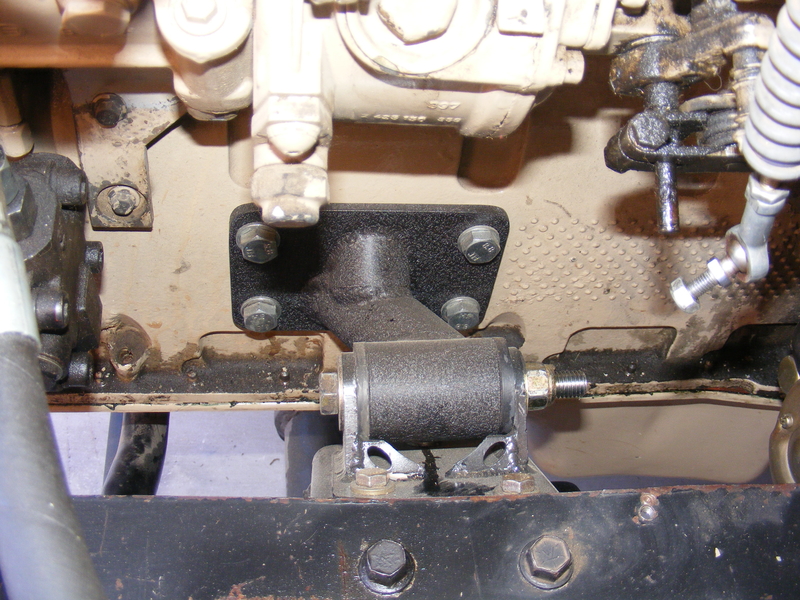 These are actually my second iteration of the leaf spring bushing mounts. The first version didn't allow as much slope on the turbo drain. With this version, the slope is still totally inadequate, which is forcing me to put a drain bung in the pan right below the pan rail. Eventually, I will swap to coil front suspension, and when I do so the stock Chevy frame-side motor mount brackets will go away. This will necessitate fabricating yet another set of motor mounts. When I do so, I will likely end up running aftermarket urethane bushings for the Dodge second gen motor mounts. I will still use tubing though!