Discussion Starter
·
#1
·
I have the new, to me, HY35W on the '94 NPR.
I don't have the install finished as I'm waiting on a few parts (mostly hardware) so this is a glorified mockup at this point.
First lets see the turbo.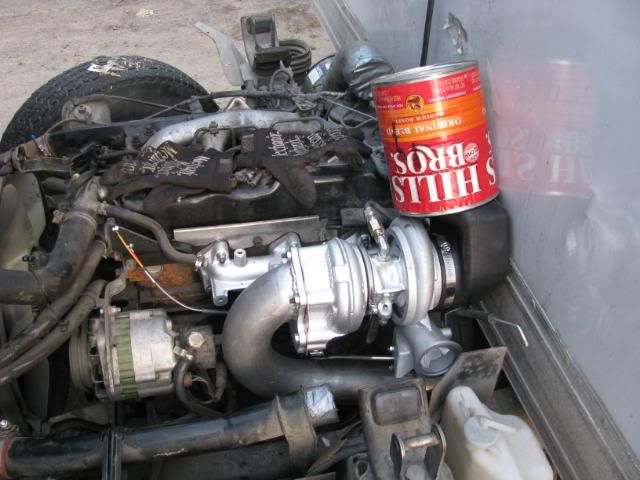 I'm fabbing a heat shield to go between the down pipe and the Vacuum pump.
I have the factory oil drain tube modded to where it fits the HY, I slotted the bolt holes, have to see if that remains leak free, I hope.
I had to make a spacer to have the compressor housing clear the exhaust manifold, and of course I don't have a pic of that at the moment. I do however have a Pyrometer probe (type K thermocouple) and a drive pressure tap in it.
Ignore the coffe can, it's a cap in case it rains tonight (I'm through with it for the day).
The cobra head just clears the front of the box, I expect it to rub occasionally, but I've cut and sanded the stub that goes on the turbo inlet as much as I figure I dare this time around. I plan to keep an eye on it.
I have the oil feed plumbed in though, here's a closer picture.
That's the factory oil line with the banjo fitting cut off, the first fitting is a Swagelock brand 10mm compression fitting, to 1/4 NPT, to a Female 1/4 NPT to Female -5 (5/16) AN / JIC (37*) swivel. The 90* fitting is a -5 to 12mm (IIRC) X1.25 O-ring fitting.
Some of you may know any one of those will drive a hydraulic shop into appoplexy, all 3 in one, don't tell them you have it, they won't let you in the door.
More pics to follow.