Looking to sell my 4bt setup that is in my Jeep. Located in North Central Indiana. It is a VE pump 4bt. about 9000 miles on fresh rebuild. Engine is still in jeep coupled with a custom aluminum CNC GM bell housing adapter with the GM Manual flywheel. Transmission is a Jeep AX-15 with a
Novak Adapters
plate and a GM bell housing what I have is not the updated version but works well. I have a
GM Bell housing
with the built in GM Slave cylinder bracket on the Bell. Transfer Case is not part of the sale. Will separate the Transmission from the engine for a Lower price on the engine.
I am asking $4650 for the whole package. Will deliver within a 150 mile radius of South Bend, IN if bought as a complete package. You must have a way to unload. If you want to pickup then price will be $4500. If you want it shipped you must make arrangements for shipping. I can mount to a skid and load onto a truck.
Details on engine.
.020" oversize pistons that are 14:1 compression
Main and rod bearings are standard.
7mm injector bore head the 60 lb valve springs installed for higher rpm.
Injector pump has been turned up but almost no smoke. 3200 rpm spring is installed
stage 3 Colt Cam (New not Reground)
http://www.coltcams.com/html/cummins_5_9_camshafts/index.cfm
50 horse extrude honed injectors from CrewCab59 on the forum. I also have a set of POD injectors that will go with the Engine.
9 cm2 turbo exhaust housing with a 50 mm compressor wheel. Exhaust manifold is the center mount going up. I have a 55 mm compressor wheel and housing also for the turbo.
Power Steering pump is the Dodge style with vacuum pump. vacuum pump will go with sale but not the pump. I will send the pump adapter with. I have the bracket and gear to mount a P-pump for power steering on the engine too that will go with the sale.
Engine pictures still in Jeep. The compressor on the drivers side is for onboard air on my jeep. The compressor will not go with the engine.
A/C compressor and alternator mount.
Picture of the adapter. Header is gone. This picture is when I rebuilt the engine.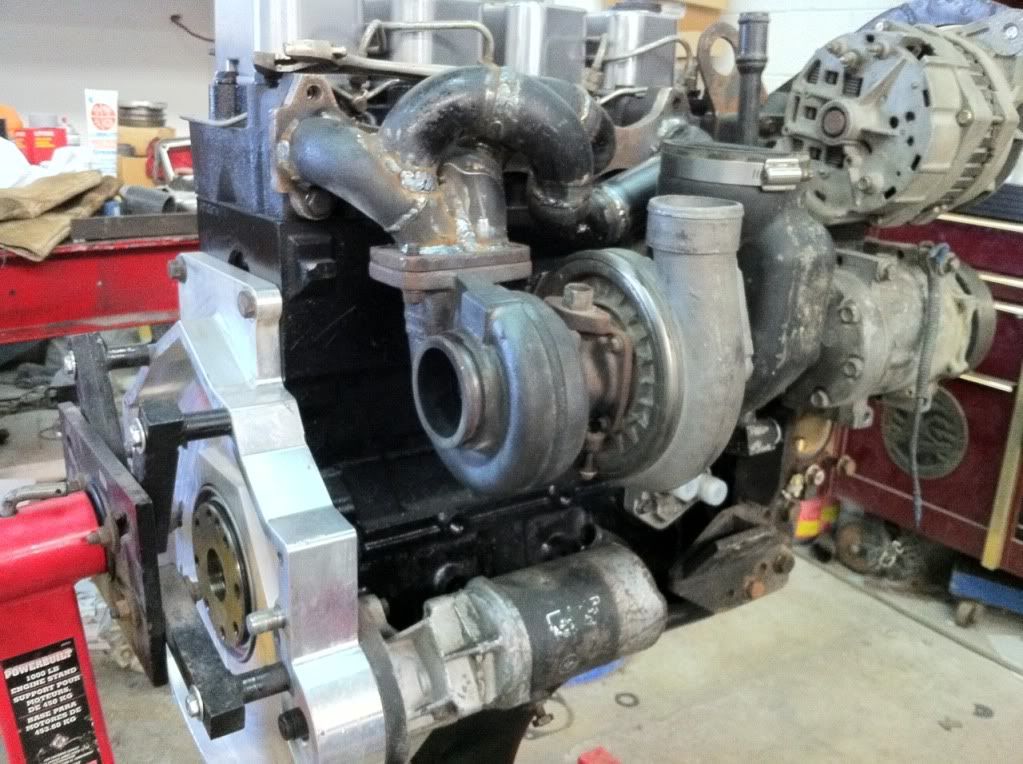 Picture of the Bellhousing from below and the Novak Adapter