I got my donor home last night! Well it was a wild ride, I felt like I cheated death. Lets just say driving a truck fome 150 miles, that you know nothing about, in the dark can get interesting fast, espescially when it's on back highways with absolutely NO ONE ELSE around...
My headlights decided they were lazy and turned off completey un expected a few times
But all is well now, I just have to decide whether Im going to do my swap here in Utah or home in CA. And if out there how to get my K30 and my donor truck out to work on em. Anyway heres the beaut:flipoff2: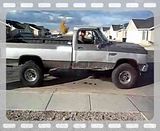 And before someone asks...The down pipe is only about 2 ft. long, no exhaust leak!
And here's where the 12v will soon reside...
:beer:
Incase anyone is wondering...the K30 is currently powered by a real strong running 6.2, but I want more so Im going 12v.